December 2, 2018
Makeover Monday: How many New York Times crosswords have been created by women?
We've had quite a few Makeover Mondays this year focusing on gender disparities. This week, we're analyzing the gender composition of constructors of New York Times crossword puzzles. The original viz come from
XWord Info
: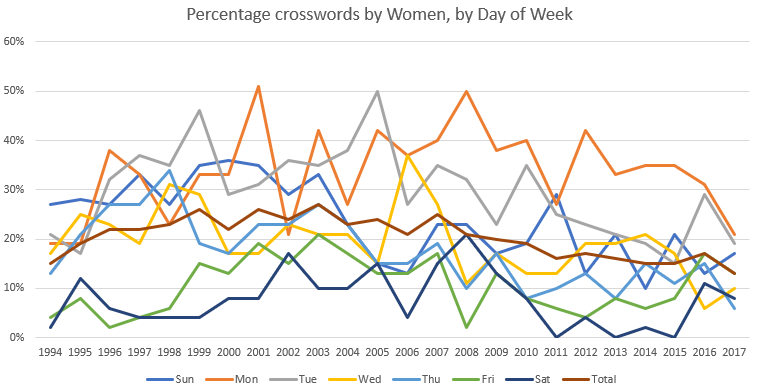 What works well?
The title explains what the chart is displaying.
The x-axis and y-axis are easy to understand.
Excluding 1993 and 2018 since they are partial years.
The chart has the proper height-to-width ratio.
What could be improved?
The title could be a bit more informative. Something like "Over the last 24 years, there have been only three weekdays where women has constructed at least 50% of the crosswords."
There are too many colors, making the chart distracting and the lines hard to follow.
What I did
Separated the days into separate charts so the trends for each weekday would be easier to follow
Created sparklines and highlighted the high point for each weekday
Labeled the values for 1994 and 2017 for context
Included a BAN for the overall percentage for each weekday
Created a mobile layout
Shaded every other row to distinguish the weekdays and help guide the eye across the chart