March 11, 2018
Makeover Monday: The Twisted Nature of Irish Whiskey Sales
alcohol consumption , BordBia , Glendalough , Information Lab , ireland , irish , Makeover Monday , St. Patrick's Day , The IWSR , whiskey , whisky
4 comments
St. Patrick's Day is nearly upon us and we're partnering with
The Information Lab Ireland
and
Glendalough Distillery
to give away three bottles of whisky. You can find the details
here
.
Also, thank you to
BordBia
for providing the data that they collected from
The IWSR
. Let's have a look at the visualization to makeover from
Bloomberg Businessweek
: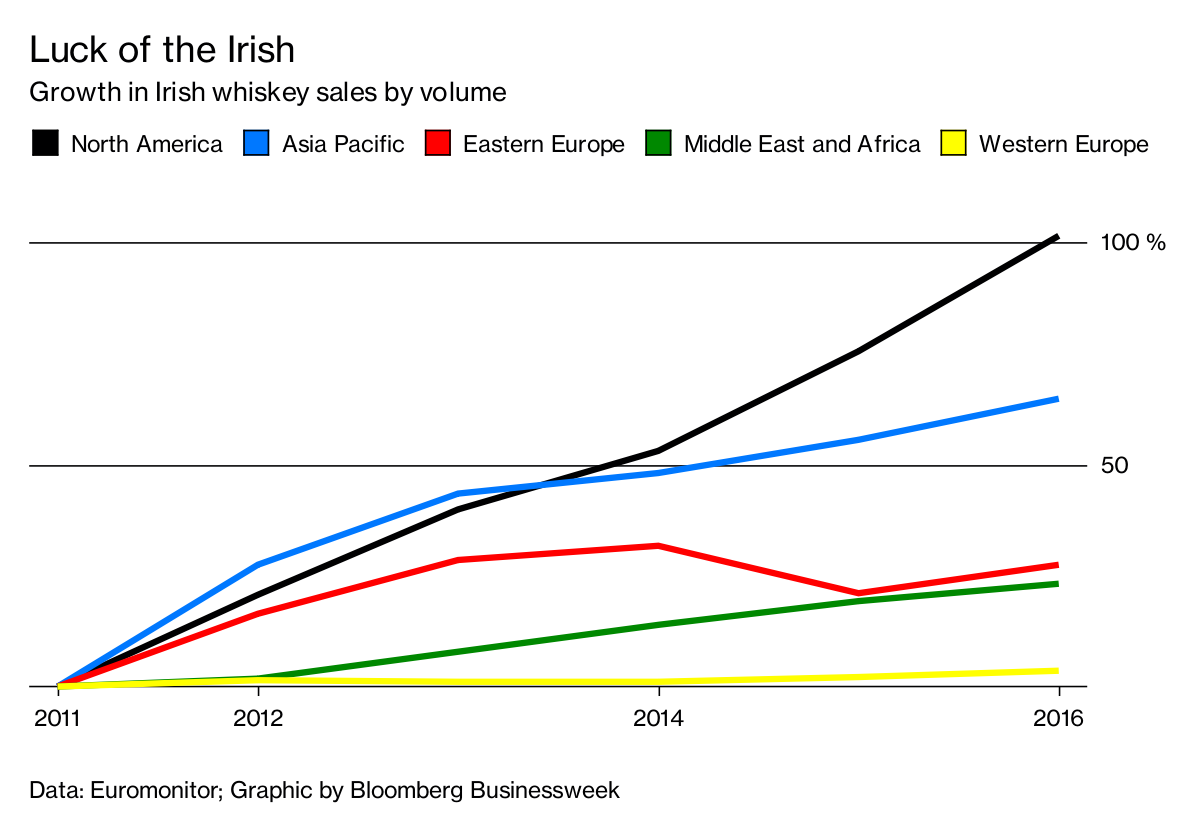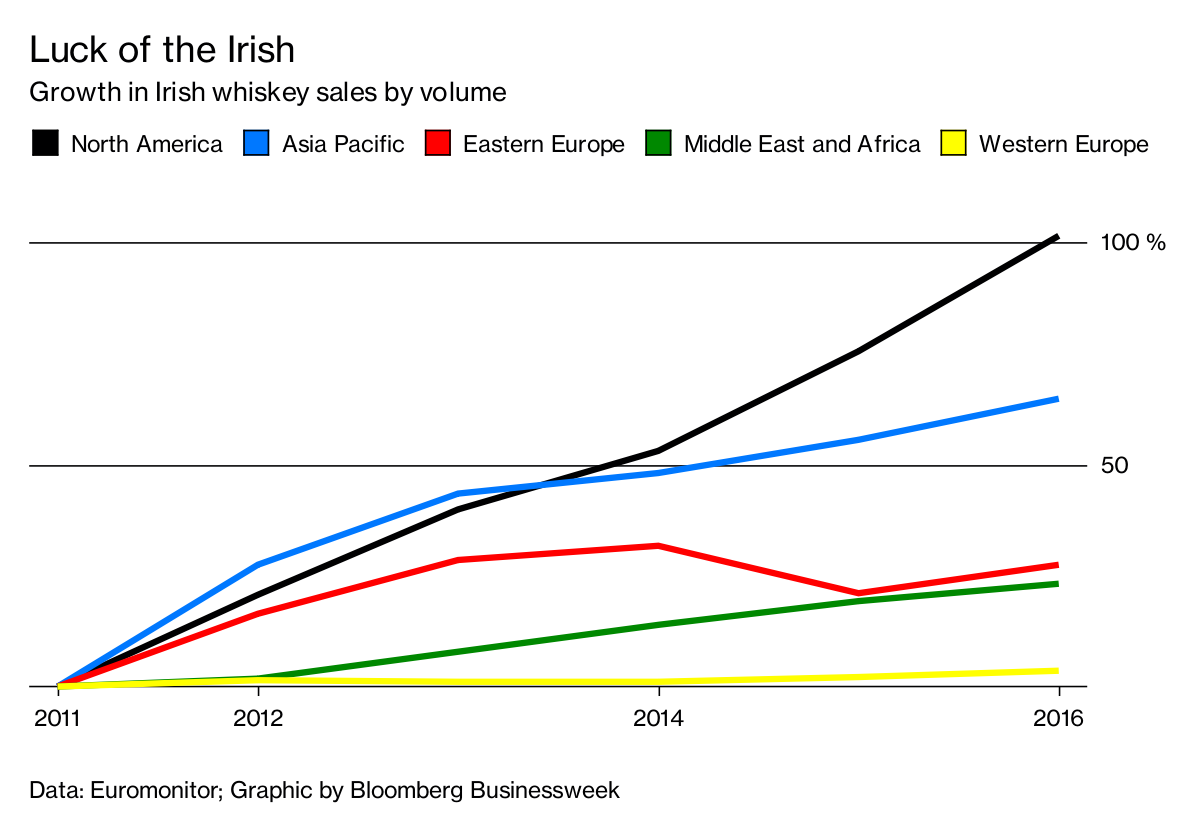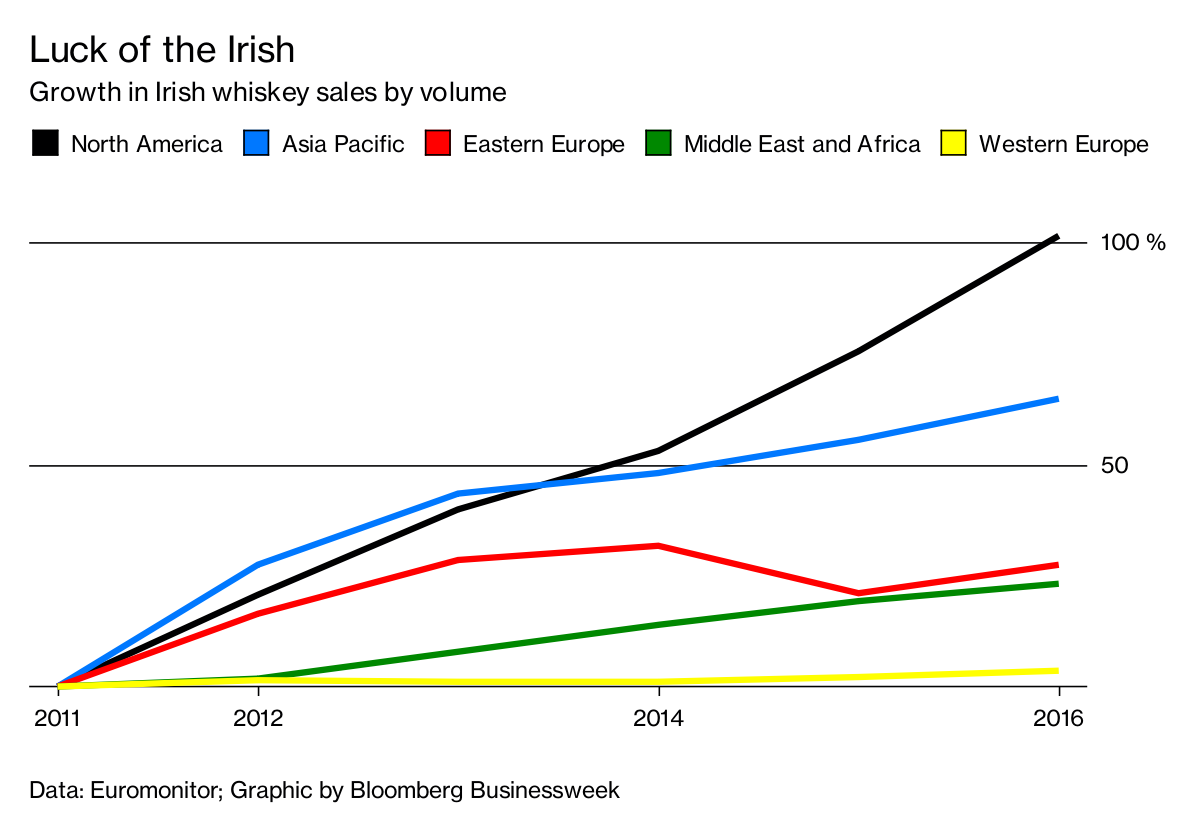 What works well?
Overall the design is clean, including minimal gridlines.
Showing cumulative growth since 2011 makes it easy to compare the regions.
The region colors are easy to distinguish from one another.
The subtitle tells me what the chart is about.
The legend is prominently placed so that we know it's important.
Putting the axis on the right speed processing because the axis is next to the end of the lines.
What could be improved?
Labeling the lines directly would remove the need for the legend.
Labeling the ends of the lines would tell us what the growth actually has been.
The title isn't very relevant to the data. Why does this make the Irish lucky? A better title is needed.
So what? What are we supposed to get from this?
My Goals
There are a lot of countries and a lot more years in the data set, explore them and look for stories.
Consider the regional aggregations to see if there's an significance.
Look at both volume and change. Looking at just change doesn't factor in the volume that each country imports.
This is time series data, so spend time looking at line charts.
After playing with data for a while, I remembered
this great viz
by
Emily Chen
and thought it might fit well with this data set because whiskey sales within Ireland have decreased. I used her viz as my style guide to create my Makeover Monday week 11.