August 19, 2018
Makeover Monday: Africa's Deadliest Armed Conflicts
Week 34 is a collaboration with
ACLED
to help them visualize armed conflict in Africa. Here's the original visualization: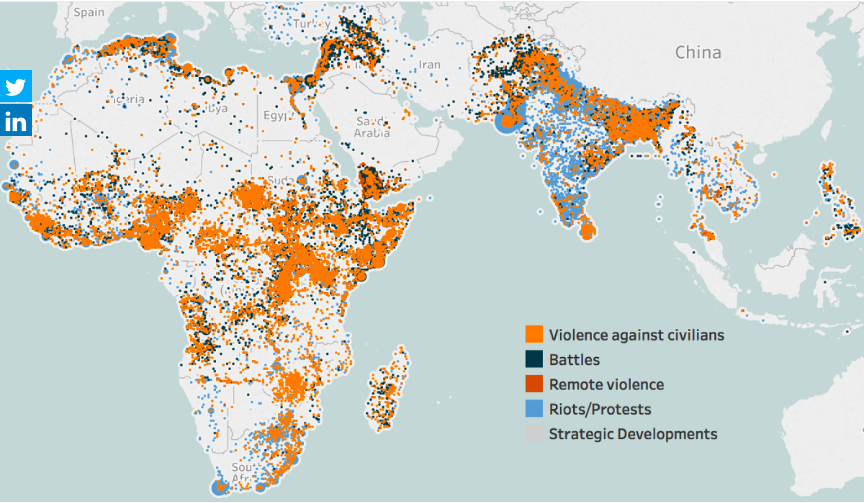 What works well?
The map is zoomed into the areas that are the focus of the data.
The color palette has enough variation to distinguish between the type of violence.
Putting every incident on the map helps show the volume of conflicts.
What could be improved?
Because the dots are overlapping and there's no transparency, you can't see what is behind each dot. Are there battles behind the violence against citizens? I have no idea from this chart.
Some of the dots look like they are sized differently. Why?
There's no title.
The data source isn't referenced.
While the color palette give a good range, I'm not sold on the color choices. These are all bad topics, but the blue could come across as not bad.
Have fatalities been accounted for?
What I did
I like the idea of a map for this data set, but I think a density map will work much better. As this is now only in beta, I can only post an image. I'll post the interactive version once Tableau 10.3 comes out.
I wanted to understand where the deadliest conflicts occur, so I create a metric for fatalities per incident.
The density is colored by this metric.
I separated out the types of violence to address the issue of overlapping.
With that, here's my Makeover Monday week 34 about Africa's deadliest armed conflicts.