January 7, 2018
Makeover Monday: What characteristics are most important to British men and women?
Makeover Monday week 2 represents my 600th viz on my
Tableau Public profile
. I'm not saying this to brag; I'm hoping it shows readers of this blog the dedication I put into my craft. I preach to people all the time that the only way to get better is to practice. That's what I do...every single day. I want to learn something new every day. I encourage you to do the same.
For week 2, we looked at this viz from
YouGov
.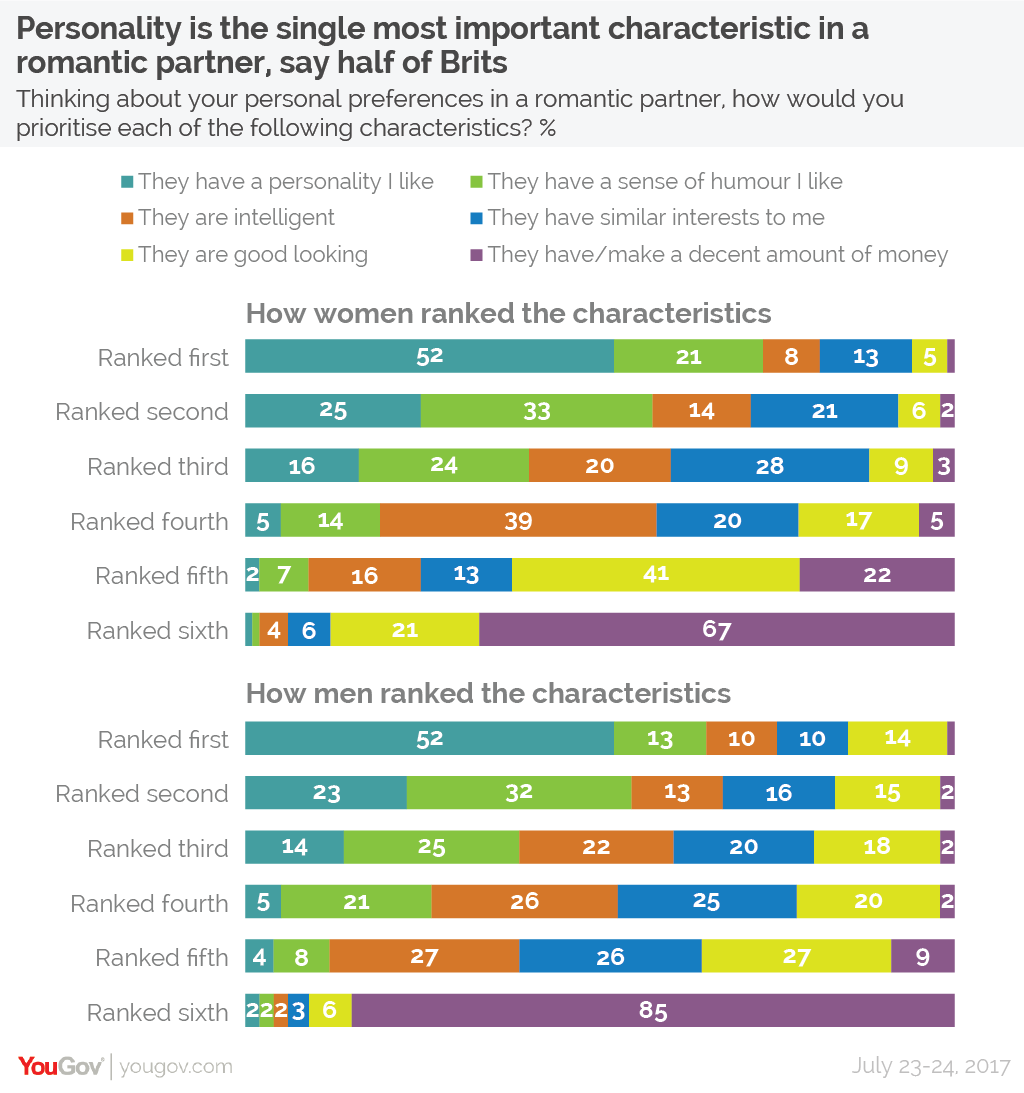 What works well?
The title and subtitle that make it clear what the viz is about.
Splitting the view up between men and women keeps it from getting too busy.
You can easily look up any value.
The colors are easy to distinguish from each other.
The colors are in the same order for each row.
Including the survey dates in the footer.
What could be improved?
Making comparisons between men and women takes longer than necessary.
Repeating the word "ranked" on each row is unnecessary.
While you can easily look values up, your eyes have to go back and forth to the legend.
The legends could be reworded to be shorter. For example, change "They have a personality I like" to "Personality".
What I did
I struggled with this data set. I must have spent 2-3 hours trying to find something insightful, trying different chart types, etc. Nothing was working for me. When I get stuck like this, I like to turn to Google images. I searched for "looks vs. personality charts" to hopefully find some inspiration.
I clicked on one image and then some of the related images. This image in particular stuck out to me:

Oh maybe this is something to work with, but wait, I could swear I've seen this somewhere before. Turns out Andy Cotgreave created this for Makeover Monday week 4 back in 2016. How ironic!

So I set out to do something similar. Basically I wanted to take the original stacked bars, keep them separated by gender, and then create BANs and the units chart for each personality characteristic as Andy has done.

With that, here's is my viz.